CHELSEA RECREATION ZONE, YOUR NEW TOOL TO KEEP UP WITH THE PHYSICAL, SOCIAL AND CULTURAL ACTIVITIES PROGRAM!
The Municipality of Chelsea's Recreation, Sport, Culture and Community Life Department and the Meredith Centre are proud to announce the launch of a new microsite dedicated to the Recreation Zone program.
Chelsea Recreation Zone is a web platform that gives you access to the municipal and community program of physical, social and cultural activities. Rethought out to better meet your needs, the new online program enriches your experience by offering you:
real-time update of the program;
a simplified activities search based on your interests, location and schedule;
the possibility to create a list of your favorite activities;
and more!
Please note that the program will now only be printed upon request.
---
CHELSEA RECREATION ZONE IN JUST TWO STEPS
1. Navigate the home page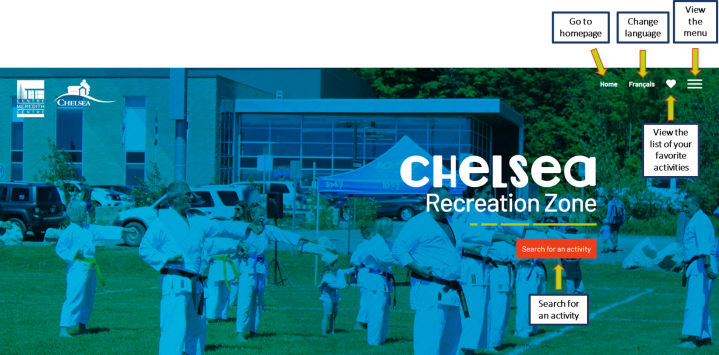 2. Search for activities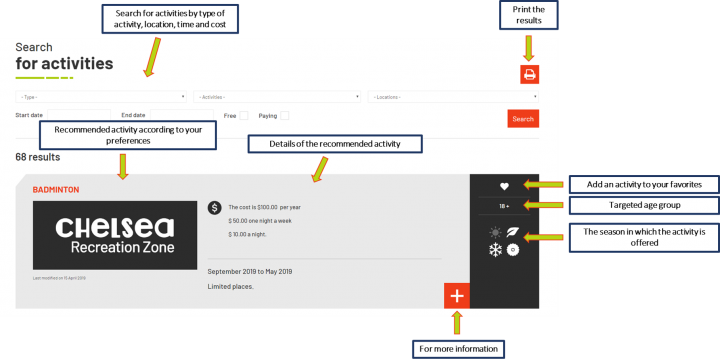 Information
Recreation, sports, culture and community life department