PUBLIC ART

Call for Artists

The Municipality of Chelsea invites local professional artists to participate in the competition organized by the MRC des Collines-de-l'Outaouais.
The "de Collines et d'eau" route is a public art circuit that showcases the historical and cultural heritage of the seven municipalities of the MRC territory.
The collaboration of artists is solicited for the acquisition of a permanent sculpture to be located on the site of the Hollow Glen Community Centre.
The deadline to submit a concept is November 9, 2020 at midnight.
For more information, please contact Manon Lafontaine, Community Development Officer at 819 827-1124 ext. 222 or m.lafontaine@chelsea.ca .
For more details on the contest, click here.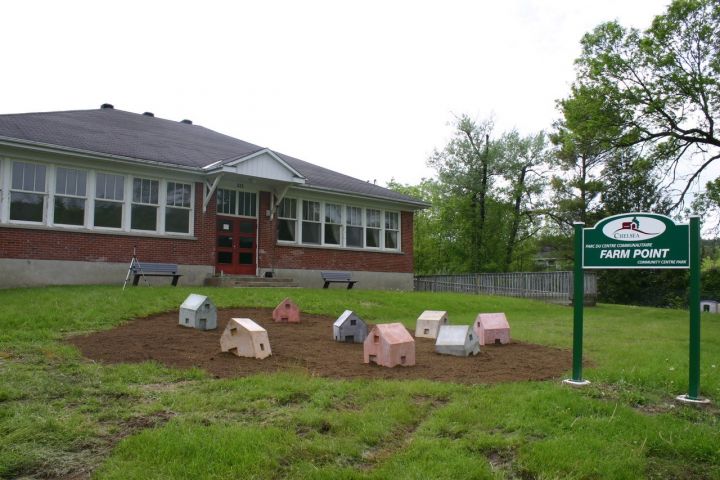 Le Cercle des Villégiateurs

Le Cercle des Villégiateurs is a work of art installed in front of the Community Centre of Farm Point. It has been created to remind us of a piece of Chelsea history.
Artist: Marc Walters
---
PATRIMONIAL SITE

Chelsea Pioneer Cemetery | Route 105
Site of the tombstone of Private Richard Rowland Thompson, whose heroism during the war was highlighted by the Queen's scarf of honor, crocheted by Queen Victoria herself, and of which there are only eight examples in the world.
Mission Union Church | chemin Brown
Interpretive site
Parking: yes
Interpretation site with the restoration of the bell tower of the old church, 2 park benches, 2 interpretation panels, and a landscaping project
Old Chelsea Protestant Burial Ground | 245, chemin Old Chelsea
Interpretive site
Parking: yes
A memorial site that includes 68 funeral monuments arranged in irregular rows, and more than 200 graves. Several monuments are grouped on family lots. The Old Chelsea Protestant Cemetery is set back from Old Chelsea Road in the heart of the centre-village.
For information
Recreation, sports, culture and community life department