Old Chelsea Road, 1900
In 1875, the territory that became the Municipality of Chelsea was carved out of part of the Township of Hull. Its name until 1990 reflected that origin: "Le Municipality of the West Part of the Township of Hull" (La Municipalité de la partie ouest du Township de Hull), and its territory stretched from Ironside to Farm Point.
On April 28, 1990, it became the Municipality of Chelsea, reflecting the two major villages at its centre.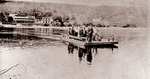 Kirk's Ferry, 1921
Although its waters and hills were well known to indigenous peoples and fur traders before the nineteenth century, it was only in 1800 that the first settlers arrived and began to take up land in Hull Township.
During the next three-quarters of a century its land was broken into farms, the native white pine harvested as a cash crop, and small and larger businesses began to thrive.

Maison O'Neil House
When the Municipality's first council met on March 1, 1875, it was at the house of Charles Kingsbury, later owned by the O'Neils, on what is now Route 105 in Chelsea.
The first mayor, Timothy Moffatt, had arrived from Ireland in 1822; his fellow Council members included Henry Crilly, Michael Burke, Martin Fleming, Joseph Nadon, James McClelland and Luther Edey. Timothy Moffatt and Michael Burke had both served on earlier Township Councils; other Chelsea residents who served from the 1840s up to 1875 on local and regional Councils included Gardner Church, James Reid, Josephus Hudson, Thomas Reid, and Josiah Chamberlin.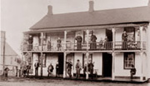 Dunn House, 1890

Horse-drawn Buses, 1914
The 1875 Municipal valuation roll listed 819 "taxable persons," mainly farmers, but it also included one each of bakers, butchers, cabinet makers, doctors and shoemakers, more than one hotel-keeper and storekeeper, more tavern-keepers (eight) than civil servants (six), and one fiddler!
There were also several schools and churches, which, of course, did not pay taxes. Methodists and Presbyterians had churches in the village of Chelsea, and the Roman Catholic Church was located in Old Chelsea. The Anglican pastoral charge of Chelsea was also established in that year and their building erected by 1877. Today the Methodists and Presbyterians have combined to become a United Church, the Anglican and Roman Catholic churches have continued in Chelsea and Old Chelsea, and another Roman Catholic church is located in Farm Point.
Both English and French-language elementary schools now serve Chelsea's children, who later attend high schools in nearby Gatineau.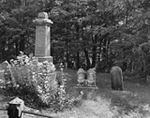 Protestant Cemetery, 1997
Chelsea's cemeteries are a rich resource of community history dating back to the nineteenth century. Two of them have been recognized as historical monuments and are closed to further burials, while St. Stephen's Roman Catholic Cemetery has several tombstones dating to the 1840s and 1850s and continues as an "active" cemetery.
History buffs can find in Old Chelsea's "Protestant Burial Ground" the earliest grave monument in the National Capital region, in memory of Thomas Wright, who died in 1801.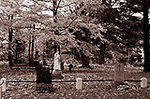 Pionniers Cemetery, 1997
In the small "Pioneer Cemetery," off Route 105 in Chelsea, visitors will find the grave of Private Richard Rowland Thompson, whose Boer War heroism was recognized by the Queen's "scarf of honour," one of only eight in the world, crocheted by Queen Victoria herself.
The Municipality's first town hall was built in 1876, and this 36- by 24-foot one-story building in the heart of Old Chelsea served the community until 1956 when a combined fire hall and municipal office was constructed. In 1988 the Municipality purchased a house dating from the 1930s to house its administrative services and the Mayor's office, while other services continued to be housed in the older municipal building.
Since 1997, Chelsea's municipal services have been located at 100, Old Chelsea Road.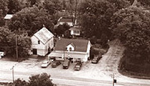 First Town Hall, 1973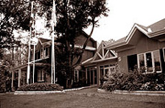 Present Town Hall, 1999
Chelsea has become a prime destination for outdoor enthusiasts who enjoy summer and winter sports activities…. Swimming, nature walks, biking, hiking and skiing are just some of the leisure activities which draw people to our community.
Each autumn, Chelsea unveils its spectacular colours and local artists welcome many visitors to their studios.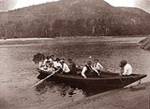 Ramsay Point, 1920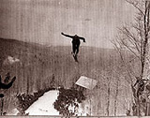 Camp Fortune, 1949
Throughout the years, Chelsea has kept its natural charm and has taken steps to protect the environment in which we live in.
Photos: Gatineau Valley History Society