WASTE COLLECTION : NEW STANDARDS

On September 1, 2019, two important new standards for waste collection came into effect. It is therefore important to read the information below.
1. Compliant bin

All residents must use a green, black or grey wheeled bin with a European plug for waste collection. The bin must have a maximum capacity of 360 litres and maximum weight of 100 kg when filled.
Below is an example of a compliant bin along with examples of containers that may not be used for household waste collection.
Residents who already have a black or grey bin, in good condition, that meets these specifications may use it for waste collection. Blue and brown bins cannot be accepted for garbage collection as they are reserved for collecting materials for recycling and composting.
2. Allowed waste volume per unit

To reduce the amount of landfill-bound waste, a limit of one bin per collection is set for spring and summer and two bins for autumn and winter. Any additional bin or item left at the curb cannot be collected.
Example of compliant bin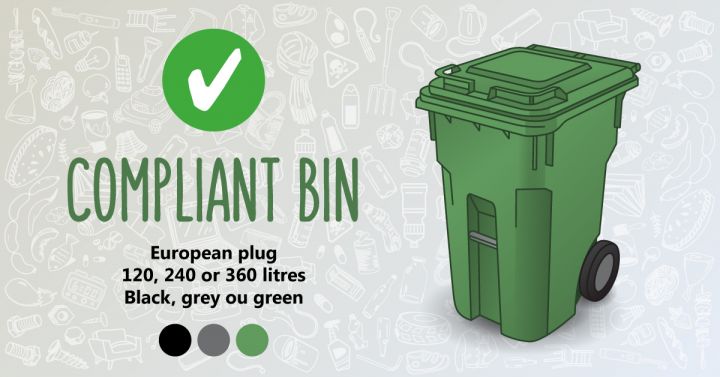 How to purchase a compliant bin?

To purchase a compliant garbage bin, you can buy one directly at the reception of the Town Hall at a cost of $80 plus taxes. It is also possible to purchase one in a business that offers this type of bin. However, it is your responsibility to ensure that your bin meets the above specifications.
To assist you in this regard, the Municipality has prepared a list of businesses that sell the appropriate bin (the list includes pricing per unit).
Please note that 120-litre bins are more difficult to find because few retailers have them in stores. You may, therefore, have to buy a 240 or 360-litre bin.
View the list of businesses that sell this type of bin
Containers unsuitable for garbage collection
Blue or brown bins
Bins that do not comply with the standards listed above
Boxes and bags placed at the curb
Any item exceeding the limit allowed per collection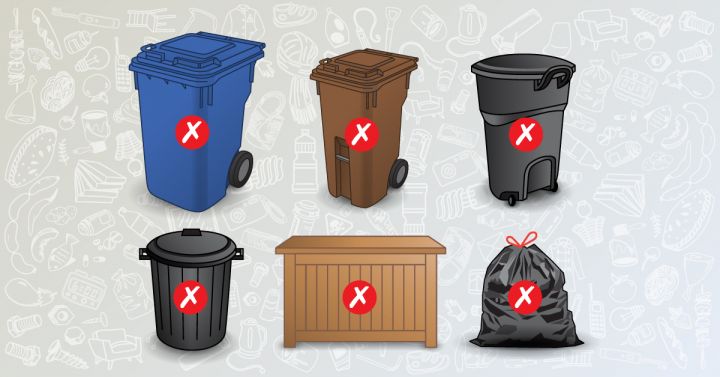 ---
WHAT IS FINAL HOUSEHOLD WASTE?
Final waste is residue that cannot be recycled, reused, or composted and is therefore destined for the landfill. This is waste that ends up in the green bin, for example:
Chewing gum
Cigarette butts and ashes
Disposable sweeping cloths (e.g. Swiffer® pads)
Fabric softener sheets (e.g. Bounce®)
Flexible plastic tubes (tooth paste, sunscreen, etc.)
Incandescent bulbs
Litter and animal excrement
Number 6 (♸) plastic items and containers that are not identified by the Mobius loop
Metallic packaging (chip bags, granola bar packaging)
Personal hygiene products
Plastic straws
Styrofoam
Vacuum bags and their contents
Waxed food paper
---
HOW TO DISPOSE OF HOUSEHOLD WASTE
Through regular municipal collection. Maximum of one 360 litres wheeled bin per collection during the spring/summer months and two 360 litres wheeled bins per collection during the fall/winter months.